Sanghi Choi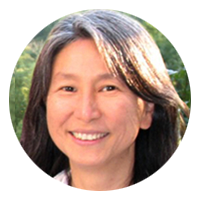 Sanghi Choi discovered yoga, tai chi and dance as a teenager and has been exploring ever since. A Somatic Movement Educator, she has taught dance, anatomy, and yoga and been a teaching assistant at the School for Body-Mind Centering under founder, Bonnie Bainbridge Cohen.
Sanghi studied Qigong with several master teachers before beginning Wild Goose with Dr. Bingkun Hu in 2009. She is thrilled to have found a system that synthesizes the joy of movement with the profound benefits of Medical Qigong. For her these include freeing herself from aches and pains, breathing easier, having more energy and cultivating a deeper sense of connectedness.
Sanghi's classes are suitable for all levels. She can be reached at or via her website: greaterease.com.