Mark Edsel Johnson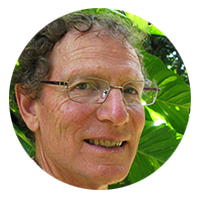 Mark began his study of the internal energy healing arts in Japan in 1972.  While living in Japan he studied  Aikido,  Jodo ("Way of the Staff"), Shiatsu massage, and Zen, with some of the top masters.  Also in the 1970's, Mark lived in Taiwan where he began his study of Tai Chi, Bagua, and Qigong.
Upon returning to the USA in the 1980's he sought out expert teachers in the healing arts and deepened his understanding and practice.  In India, he began his in-depth study of yoga and is now a certified yoga teacher and yoga therapist of the Pranava Yogadhama  School.  Mark also studied and practiced Reiki with masters in India and Nepal and is a Reiki Master.  In Thailand Mark studied Thai Massage at a Buddhist temple and received his massage certification from Chiang Mai Healing Arts Association.
After meeting Dr. Hu in 2003, Mark knew he had met a qigong master who could take him to a higher level of awareness, practice, and healing skill.  Since that time, Mark has been an avid practitioner of the Wildgoose Qigong and has been sharing this wonderful healing art with individuals and small groups in his home in Vermont, USA, as well as in India, Nepal, Sri Lanka, and Thailand, where he has been living and doing volunteer work.
For Mark, there is no separation between Qigong and everyday life.  Whether in the kitchen cutting carrots, in the garden digging a new raised bed, or the forest gathering firewood, in every activity there is the wonderful and enjoyable Wildgoose Qigong.
Mark can be contacted by email at